I am back. :)
Thanks for the comments about my last post-- really, I just thought the giraffe icon was the
cutest
thing ever, and double YAY for having 4 followers now! I feel spoiled. :)
Anywho, I realized that I haven't talked about my dress. Like, at all. Well, there is a perfectly reasonable explanation for this....
It has not been created yet.
**i'll let that one sink in for another minute**
Where were we?? Oh yes, my yet to be created beautiful fantabluous dress! Here is the dealio. My mommy is the most amazing seamstress ever. Like for real, I kid you not! You need proof?
Exhibit A: Senior prom dress, created the day before prom:
Exhibit B: (I CANT BELIEVE I AM PUTTING THIS FOR THE WORLD TO SEE....)Pink Ninja Turtle: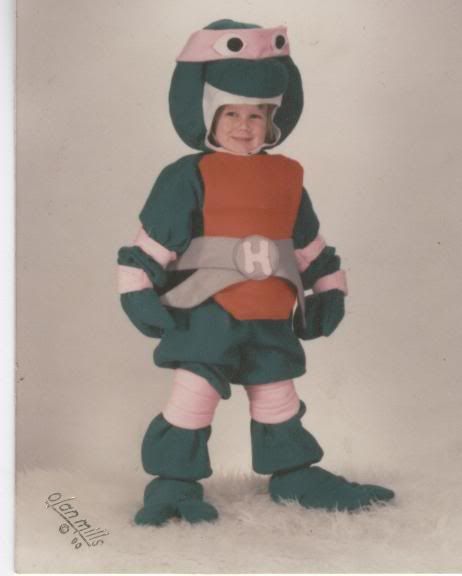 Yes, that is a fully custom ninja turtle costume, with a H belt buckle. Still my favorite costume to date, by the way.
So I am not too worried. We plan on going to buy the fabric here within the next month-- I can't wait to share this adventure!!
When Christopher and I first told each other that we love each other and are gunna get hitched (aka engaged) I gravitated towards these types of dresses:
Yeah, thats the dress Tess wore in 27 dresses. Love.
But then one day, I woke up, an had an epiphany. Like a full on gold light shining on my blonde little head
moment
. I need a poofy dress. Our wedding is on the ship wide formal night. Where people typically go all out, remember this pic?
Thats formal night, I gotta step up my game for our wedding day! That day, forevermore, these two dresses became my inspiration:
MRS POODLE! Wedding dress extraordinaire--her dress in the most gorgeous dress i have ever seen.
EVER.
It's funny-- through my teen years i thought it was
so uncool
that my mother wanted to make clothes for me. But now, I feel like princess jasmine, cause I can pretty much have whatever I want created for me, my way, to fit me. Even better, my madre gets to do something that she loves, and create with her own hands, the single most noticed thing (aside from the actual wedding and, um, open bars)in our wedding. She is beyond excited, as am I.
I have been asked repeatedly "aren't you worried that your dress isn't even started yet? You ONLY have 6 months". The answer to that is not at all! My mom can whip this thing out in 2 days tops if she really needed to(including meals, bathroom breaks, showers and sleeping). I am fully confident it will come out better than I envision. I am so excited to share the progress of my dress with you all!!